When you are looking to make a move, whether it be to a rural or urban area, there is a whole list of items to consider that really have to do with lifestyle. Yes, there are many reasons to move, but once that decision has been made, what do you need to consider?
Well, I'm sure the answers varies for each person; however, one thing is constant…location. It is one consideration at the top of every home buyer's list. Anyone who has built with Vision Homes knows that no matter where your ideal location is, we know how to navigate the ins and outs of building right where you want to be.
---
Rural
We think it's important to not only provide a great finished home to our buyers, but to make sure anyone we work with leaves with a better understanding of how we build and how we can help with each step in their process.
One of the interesting and unique things about our Wild and Wonderful state is that it is made up of mainly rural areas. What that means for you is that there are no official state guidelines for building in most areas. Some may wonder how we could provide a consistent, quality home without "rules" to follow. The International Building Code (IBC) is the guideline Vision Homes builds to, regardless of where we are building–be it one of our well-appointed communities like Braden Place, downtown Morgantown or the eight acres you own in Bruceton Mills.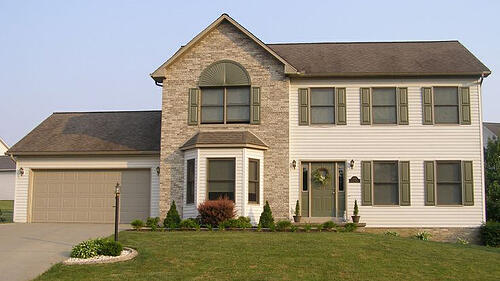 ---
Urban
When building in a city or town, there are requirements that should be followed by all who build there. The biggest difference is the permitting, documentation and licensing that is required.
Now don't be concerned!  Yes, all contractors working on your home will be licensed by the state in which they are building, but they also need a city license when working in city limits.  It's another check point to make sure those sub-contractors will also be working by city regulations.
For example; if you decide to build the home of your dreams in Morgantown, not only will you need to obtain your permit to build, you will then need to secure and deliver to the city several sets of prints, including detailed electrical and plumbing prints as well as any required fees to go to the city. You may want to ask your builder whose responsibility it is to prepare and deliver these items to their respective offices.
Vision Homes understands that some parts of the building process are, shall we say, less attractive. So to make the process as enjoyable as possible, we make it a point to be involved as much as you want us to be.
Part of our service commitment is making sure that you, our customer, isn't worried about running around getting permits and prints, but rather enjoying your time with our design specialist picking out the finishing touches like that ebony glazed maple cabinet you've been picturing in your brand new kitchen.
---
Ask Vision Homes
In essence, the difference between building in urban and rural areas is enforceability of code, but the greater distinction will be in how you remember your experience with us at Vision Homes.
Now it may not be relevant to know each and every technical detail of a build, though we'd be happy to share, but we think it is our ethical responsibility to share the standards we hold ourselves to so that you can hold us to them as well.
When you are out there shopping for that perfect builder that understands your vision, make sure you are asking the hard questions too.  After all, they will be the one you rely on to build a beautiful and sound home for you and your loved ones.
That builder may be us.
Contact us today to learn more or to schedule an appointment with one of our sales consultants.
304-296-0024
Thanks for reading,
Rebecca