If you're thinking of building your dream home, the first question you're going to ask yourself is "how do I choose the right homebuilder?"
Choosing the right homebuilder is the most important step in the home building process.  They are going to be with you through the whole journey and are going to be the people you turn to when you have questions or just need a peace of mind.
That's why you need someone who is going to listen to you, answer all your questions (no matter how many you have), tailor the plan to your needs and wants, allow you to change your mind a time or two, and overall, do it with a smile on their face.
Here are some of the most important questions to remember for choosing the right homebuilder for you.
---
Custom or Production
The first question you need to answer is what kind of builder you want:  Custom or production?  Each has pros and cons.
Custom builders may cost you more, but the houses can be tweaked to the customer's needs and wants.  If you want extra square footage in the living room or kitchen, you are able to add on.  A custom homebuilder will also take the time to make sure all your finishing's, cabinets, counter tops, faucets, lighting, appliances, doors, etc., match your personality.
Production builders are the most popular though because they tend to be more affordable and faster.
However, when using them, you may be limited in the location of your home, how much the floor plan can be customized and the kind of quality you will receive.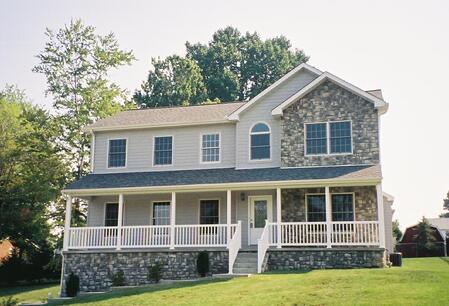 ---
Financing
Does the homebuilder have a financing plan set up? They should be able to provide you contact information of local lenders and information on different programs available for you.  Each buyer's needs are different, and you will require a personalized package plan for you loan.
Depending on your situation, you may need to secure construction financing in order to build your home.
Construction financing usually consists of more than one loan.  One loan will pay for the construction itself, which often releases money to the builder in stages as processes are finished and then converts it to a mortgage once the home is completed.
Make sure to compare banks, credit unions and mortgage brokers for the best financing solution.  Your builder should be able to give you recommendations and help you avoid pitfalls.
---
Reputation
Lastly, but certainly not least, what is the homebuilder's reputation?
Are they willing to give you names and contact information of previous customers?  Do they use name brand, nationally known building materials?  Are they affiliated with professional organizations? How long have they been in business? Great homebuilders are known for their craftsmanship and reliability.
Don't be afraid to call previous customers and ask for homebuilder reviews.  That's the only way you'll know for sure who you're dealing with.
Once you know if you want a custom or production builder, have a financing plan established and know the reputation of your builder, you will be able to see your vision become a reality.
---
Ask Vision Homes
Vision Homes has been building custom made homes in North Central West Virginia for more than 20 years.  With more than 400 homes built, we have perfected the home building process and would love to help you build your dream home you'll love for years to come.
Come meet with us, and we will give you the key to your new home upon arrival!  To learn more about our vision, click here!

Thanks for reading,
Rocky