Located off exit 23 on Interstate 68, Bruceton Mills is a tranquil community in Preston County. The only place in the United States with its name, Bruceton Mills is in a country setting with a population of 85 (as of the 2010 census).
This is an ideal area for a family who wants to get away from the hustle and bustle.
If you can't find new homes in Bruceton Mills, and if you want to build a new home where your children will have room to run and play, Vision Homes can help.
---
What to do First When Building a Home
After holding steady for the past four months, builder confidence in the market for newly constructed single-family homes rose two points in June to 60 on the NAHB/Wells Fargo Housing Market Index (HMI), the highest reading since January.
"Builders in many markets across the nation are reporting higher traffic and more committed buyers at their job sites," said NAHB Chairman Ed Brady. "However, our members are also relating ongoing concerns regarding the shortage of buildable lots and labor and noting pockets of softness in scattered markets."
With home construction at a high, now is the time to start the process of building your dream home.
Here are the first three things you need to consider when building a new home:
Where will you build? Already own land? Great. Have land in mind? Great again. A site evaluation would be your next step so you can determine if what you have in mind is even possible to build on that plot of land:
What is the best way for the home to sit on the property?
Where should the driveway go?
Can we have a three-car garage?
Can we have a daylight basement?
Will there be extra costs due to the site such as excessive water, rock, clearing, etc.?
A site evaluation will answer these questions for you. Vision Homes offers a no-cost building site evaluation for your convenience. Can't find land for your new home? Vision Homes would be happy to assist you in your search.
Home Financing: How much house can you afford? Having a good understanding of your personal finances and a comfortable range for a mortgage payment before meeting with your homebuilder is extremely important so the homebuilder will be able to show you floor plans in your price range. If you're not sure how much house you can afford, here is our easy-to-use calculator.
Choosing a builder: Choosing the right builder is as important as choosing the right style of home or the right neighborhood. All of these decisions affect you —positively or negatively — long after your home is built. How do you know what builder is right for you? There is no single answer to this question, unfortunately. You have to rely on your own instincts to make the right decision. Here are some suggestions to get you started:
What is the builder's overall reputation?
How long has the builder been in business?
How are their service records? Ask for names of previous customers.
Does the builder have any professional affiliations?
What kind of materials does the builder use?
How accommodating is the builder? Will they accept accommodations to standard floor plans willingly and at a reasonable cost?
What is the builder's financial stability? Don't be afraid to ask for bank references.
These are the hardest steps. Once you have these out of the way, the fun can begin…DESIGNING your new dream home.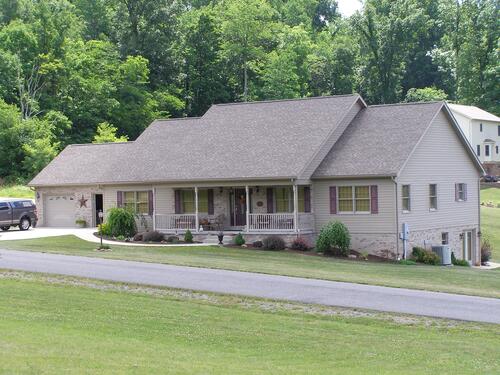 ---
Vision Homes
Vision Homes would love to help you on your journey of building a new home. We have had the pleasure of building more than 400 homes in North Central West Virginia. We love what we do, and we would love to meet with you.
Schedule an hour of your time to talk with one of our sales associates about what you envision your new home to be like and to see if we are the best fit for you.