Spring is NOW!
Okay, so "technically" spring is still five months away, BUT…in home construction terms, Spring is NOW!
What do we mean by that?
Start with the end in mind! Planning is the key to building your new home. If you would like to break ground and start your new home in SPRING, now is the time to start the process and start planning.
Building a new home takes approximately 6-8 months.  You should take that into consideration first when building.  Six months from now will be April…SPRING. Wouldn't it be great to start the home construction process NOW so you can be mowing grass early summer?
Use the cold, dreary winter months to plan every detail of your home, so when the weather breaks, our crew is able to break ground.
---
During the fall and winter, you will be able to meet with our sales associate Dave. He will be able to help you find a lot (if needed) and choose your house design, for example, two story, cap cod or ranch.  Dave will be able to help you tweak the house plan to your needs.  Want more square footage in the living room and kitchen but less in the dining room and laundry room?  Dave will help you personalize the plan to suit where you spend the most time.
Then our closing coordinator Twila will help you pick all the finishings and personal touches of your new home. You can use these months to get approved by the bank as well, so when warm weather hits, you will be entertaining your friends and family.
Here is a hypothetical home construction time line:
Buy October 15 and go to the bank
Bank will take approximately 60 days, due to new regulations
Close on construction loan around middle/end of December
Ready to break ground early January, but start date would depend on when weather allowed
Being optimistic, let's say we break ground March 1
Move in date would be July
This is why you need to begin with the end in mind.  Signing an October contract means a summer move in date.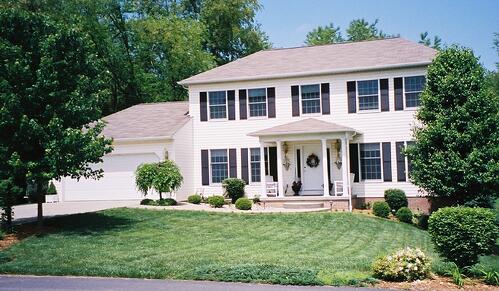 Appalachian
---
What do you have to look forward to during the winter months?
Choosing the flooring
Cabinets
Countertops
Trim
Molding
Exterior siding
Shingles and roofing
Stone and brick
Porches and decking
Lighting fixtures
Dave, Twila and the entire Vision Homes team has processes set up to make this an exciting, enjoyable process.  We walk you through a simple worksheet, show you many of our standard options right in our relaxed show room, listen to your needs and wants to help you make the right choices to create a beautiful, unique home.
Twila in our showroom with some of our standard finishings
---
Spring forward and start the home construction process NOW!
Watch our video from a happy customer, Zach, who was a first time home builder.