With winter upon us, now is the time to start thinking about building your home in Morgantown if you would like to be in it either in late summer or in the fall.
Read on to learn why. Also, get some tips on how to keep your home warm and safe during the colder months. 
---
The Home Building Process at Vision Homes 
The home building process can be a fun and exciting experience; however, it also requires ample time for the extensive planning that is needed to put the whole project together.
There are many things that go into consideration for new home construction, which is why the sooner you get in and get started on the process, the quicker we can start your new home. 
Vision Homes will work closely with you on all aspects of building your new home and will help answer the many questions that you may have, such as:
What you should consider when building a new home?
Where is there land for sale if I do not already own land?
What Morgantown neighborhoods are available to build in?
What exactly is the home building process?
General questions regarding financing a new home
While all of the above are important questions, choosing a house plan and getting it personalized to meet your needs and then getting your mortgage arranged will be the most time consuming.
From the time we first meet with you, it is generally 3-6 months before we actually begin the construction of your home. Generally, most customers take 1-2 months for designing their home, asking themselves these type of questions:
How much square footage do I want/need to add?
How many bedrooms/bathrooms do I need?
What color and style of cabinets do I want?
While the planning is going on, the bank can be working on getting together the paperwork and information that they will need to approve and close your loan. A consideration is that spring is an incredibly busy time for us, so starting the home building process now will allow you to get a jump on those who wait.
Meeting with Dave, our salesman, now versus later when spring is already here would allow you to get the process going before those in the spring time rush.
---
What House Price Ranges Do You Have?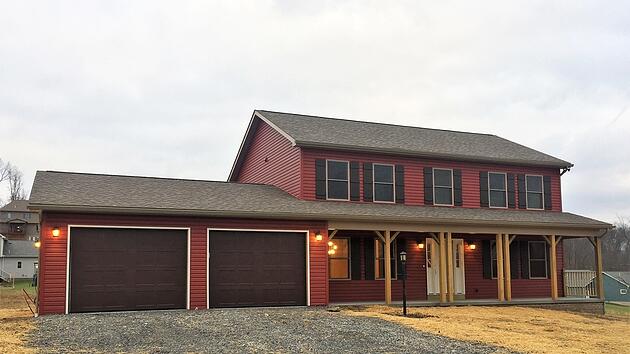 (The home above is a Custom Appalachian)
Vision Homes has three price ranges:
---
Do You Build Houses in the Colder Months?
Even with the weather starting to get colder, we will keep building houses. We do continue to build during the winter months. We currently have houses under construction, and we would be more than happy to take you on a walk through of these homes. These homes are in different stages of the building process, and you would get to experience a little bit of what the process really is.
Several of these homes are located in Frederick Place, Morgantown's newest development, which have the following features: 
Level, easy maintenance home sites
Protected community with paved streets and a post lamp at each site
Underground utilities
Minutes from I-68 and I-79
Close to shopping, schools and recreational activities
Turnkey home packages starting at $250k
Want a tour?
---
Tips for Home Maintenance in the Colder Months
During the planning process, and while you're still in your old home–use our quick tips on how to keep up maintenance on your current home.
---
Vision Homes | Home Builder in West Virginia
Vision Homes has been building homes for more than 20 years now, and we would love to add you to our family. Come in to visit with us and learn how we can build you a house you're proud to call home!
Still researching the home building process?