Bill Jones worked for West Virginia University in the division of Animal Sciences as the farm manager. Part of the job included security of the farm, so he and his wife lived in the provided residence. Once he retired, they started their search for their new home.
They looked at a lot of resale homes in the Morgantown market, but didn't like any of the existing floor plans. They reached out to Vision Homes in hopes of building a new home to fit their needs.
"We see this a lot with couples in the surrounding areas. Many couples go house hunting in Morgantown for a few weeks but are disappointed with the limited options of houses in their price range of 200-300 thousand.  It's when they realize their limited options, after weeks of searching, that they then considering new construction."—Rocky Simmons, owner Vision Homes
---
Selecting a Lot
The first step in the building process is selecting a home site. We showed Bill and Sue multiple neighborhoods to choose from before they found Braden Place and loved it. If you're considering building a new home, but don't have land, we can help you overcome that stressful hurdle by assisting you in your search for your perfect location.
---
Ranch Style Homes Are Great for Convenience
Bill and his wife were thinking about their future as they got older and decided a ranch style home might be best: a one level home with no stairs to climb. We took the Jones to several different ranch homes to see the endless possibilities in design. Once they found a floor plan they liked, they added a few personal touches, like their high ceilings, and we got to work.
"They were very obliging on making all the changes we wanted. Vision Homes is very knowledgeable and went over all the details with us."-–Bill Jones
Some ranch style homes offer great flexibility just as two story homes can—you can have bedrooms at opposite sides of the home providing privacy. You have the option of positioning the master suite behind the garage or at the front of the house and the configuration of the main living area should be designed to fit your lifestyle.
---
Designing the Details
The Jones met with our Color Coordinator, Twila, to decide on color schemes and the personal touches to make their home unique. They enjoyed selecting all of their homes' details in the comfort of our showroom, where Twila happily guides all our homeowners through this exciting process.
"Working with Bill and Sue was fun. I get to know the person and adapt my personality to do what I need to do for them to be comfortable with me."-–Twila
---
Final Walk-Thru
At this time, we meet with you at your newly finished home to do an inspection and orientation before turning the keys over. We had the final walk-thru with the Jones to introduce them to their finished home and make note of any final items that needed touched up or completed.
If you want a house you can give input on, Vision Homes is the way to go because it's not just a cookie-cutter house. You can have upgrades and things you want in a house."-–Bill Jones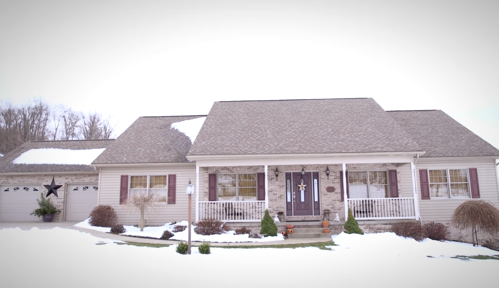 ---
Vision Homes
You have a lot of choices when deciding what you want your new home to look like, feel like and how it should function. Our team at Vision Homes can help you make the choices that will create a beautiful, unique place to hang your hat.
If you have been searching for an existing home in the Morgantown market, you know that the selection can be slim, and the prices are typically high. Why settle for something you need to change to fit your needs when you can build a brand new Vision home with those needs in mind?
Beautiful 1-acre home sites on Goshen Road in Morgantown, WV
Country Setting
Protected community with paved streets and street lights
Underground utilities
Minutes from I-68 and I-79
Close to hospitals, shopping, schools and recreational activities
To learn more, and schedule an appointment to visit Braden Place, call 304-296-0024, orclick below:
Thanks for reading,
Vision Homes
At Vision Homes, we've been building new custom homes for more than 20 years and have built over 400 homes in Morgantown, West Virginia and the surrounding areas